Port Soderick Hotel: Change of plan for Victorian resort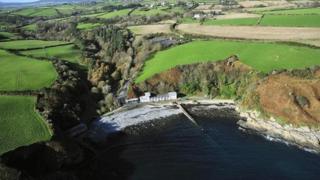 Proposals to create a heritage site at a popular Victorian tourist attraction on the Isle of Man have come to a halt.
New plans have been submitted to transform the former Port Soderick Hotel in Santon, near Douglas, into a boat house and tourist accommodation.
Last spring, Heritage Great Britain said it was to bring the site "back to life" but it has since been sold for £750,000 to a private company.
Ballacregga Estates Ltd now plans to build a boat house and four houses.
A planning application said the company wants to replace the existing buildings with a "boat house and a block of four houses and a detached dwelling; all for use as private residential and tourist accommodation".
Ballacregga Estates also said it wanted to provide a permanent base for the Help for Heroes charity.
It added: "The access that the public currently have to the site is to remain and to be respected."
Neither Heritage Great Britain or Ballacregga Estates Ltd were available for comment.
Port Soderick on the east coast of the Isle of Man once attracted thousands of tourists each summer with its pleasure grounds and secluded beach.
Victorian holidaymakers were drawn to the Port Soderick Hotel with beach-front attractions including swing boats, a camera obscura, an arcade and stalls selling candles to explore the nearby caves.
The buildings have not been used as a hotel since the 1950s, although it was revived in the 1990s as the Anchor Pub under the ownership of celebrity chef Kevin Woodford.
The premises have been derelict since 2002.