Three nominated in Isle of Man Legislative Council election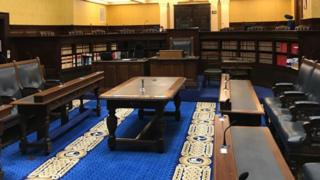 Three nominations have been received for a vacant seat on the Isle of Man's Legislative Council, the Manx government has announced.
The seat has become available after Tony Wild retired due to "ill health."
The upper house of Tynwald, the Isle of Man's parliament, primarily acts as a revising chamber for legislation.
Solicitor Jane Poole-Wilson, advocate Paul Beckett and former police officer Alan Wright will contest the election in the House of Keys on 18 May.
Members of the Legislative Council are selected in a vote by by the lower house's MHKs.
This will be the first such poll since reforms to the election procedure came into effect in April.
The changes mean the successful candidate will be elected by a simple majority, instead of the 13-vote majority previously required.
A government spokesman said the changes would "streamline the running of elections to the Legislative Council, ensure greater transparency and generate wider public engagement".