Isle of Man Parish Walk: More than 1,400 to take on 85-mile challenge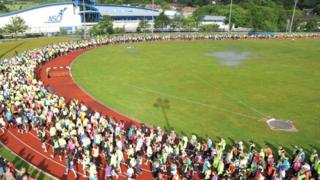 More than 1,400 walkers will take on the Manx Telecom Parish Walk endurance event in the Isle of Man.
Entrants have 24 hours to cover the 85 miles (137 km) which visits all 17 of the island's parishes on 17 June.
Only 155 of those who started the event in 2016 completed the full distance inside the time limit.
Last year Richard Gerrard won the race in 15 hours 31:43 minutes, 25 minutes ahead of David Walker with Karen Chiarello the fastest woman in third.
The race will begin from the National Sports Centre at 08:00 BST.
The majority of those taking part will walk to Rushen after 19 miles or Peel after 32 miles, which are more common targets.
Race director Ray Cox said the Isle of Man provides a "festival atmosphere" along the course with "thousands of people willing you on all the way".
Motorists are advised to check the event's website about road closures and no-stopping zones along the course.