Kirk Michael building site crush death 'accidental'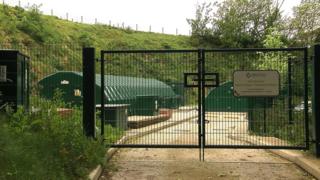 The death of a mechanical engineer on a Manx building site was "accidental", an inquest has heard.
Gareth Sowden was working on the sewage treatment works on Balleira Road in Kirk Michael on 1 May 2013 when he was crushed by a 13ft (4m) structure, which weighed more than two tonnes.
The inquest heard the 55-year-old from Douglas was an "experienced operative".
Ruling his death an accident, coroner John Needham said the "quiet family man" would have died "instantly".
The inquest at Douglas Courthouse heard a team of three workers, including Mr Sowden, had started work at about 08:00 BST.
'Unsafe practice'
After a morning break, the team had begun to construct the structure made from steel and fibreglass.
The court heard it was lifted into an upright position, where it was left unsupported for about 20 minutes, and was thought by all to be secure.
The hearing was told Mr Sowden was warned not to go close to the structure, but was thought to have moved behind it, out of sight from his co-workers, as it was blown over by a gust of wind.
Mr Needham said the structure was quickly lifted up, so Mr Sowden could be pulled out and "everything that could have been done to save Gareth was done... but unfortunately he was, at that stage, beyond help".
A post-mortem examination found the cause of death to be multiple injuries, including a fractured skull and ribs.
Mr Needham said allowing such structures to be left "unfixed or unsupported" was "unsafe practice" and would be writing to the water authority "to ensure this does not occur again".