Isle of Man TT visitors told roads 'not a race track'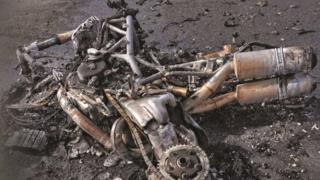 Motorcyclists visiting the TT races are being warned the open roads are not a race track after there were 95 crashes last year.
Police said three people died in the crashes involving people visiting the Isle of Man's annual festival, which is taking place between 27 May and 9 June.
Enthusiasts congregate to watch racers who reach speeds of up to 200mph.
The island's road safety campaign aims to encourage tourists to ride within their capabilities.
From 26 May the A18 Mountain Road, between the Ramsey Hairpin and Creg Ny Barr, will operate as a one-way system.
Acting Dep Ch Con Kevin Willson said: "The festival is one of the greatest spectacles on the sporting calendar and we want everybody to have fun and behave responsibly."