Raymond Caley: TT race corner honour for 'popular Manx character'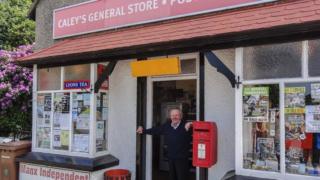 A corner of the TT race course has been named in memory of a "popular Manx character".
Raymond Caley, 76, from Sulby, ran Caley's General Store and Post Office on the Isle of Man course for decades.
He died in February and a new Caley's Corner sign, which sits at the top of the Sulby Straight, was installed this week in tribute to him.
Multiple world champion enduro rider, and close friend, David Knight said he was "proud" to honour his memory.
"For years he worked tirelessly in support of the island's races."
Mr Caley was a founding member of the Manx Grand Prix Supporters Club and made a significant contribution to safety and fundraising for racing on the TT course.
Economic Development minister Laurence Skelly said: "It is a fitting tribute to a great local character and supporter of racing."
This year's Isle of Man TT begins on 27 May with the first races on 3 June.