Geoff Cannell: Voice of TT's collection to be auctioned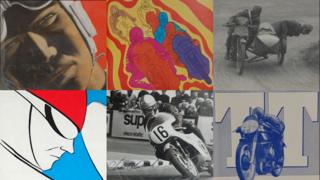 More than 500 items of TT and Manx Grand Prix memorabilia belonging to the "voice of the TT" Geoff Cannell are being auctioned.
The sports broadcaster, who died in 2007 aged 65, commentated on the TT races for 35 years during which he amassed the huge collection.
His daughter Zoe said it is a "wonderful collection" but it is time to "pass it on for others to enjoy".
It is one of the largest personal collections of TT and MGP memorabilia.
It includes rider autographs, photos and programmes dating back to the 1940s when his stuntman dad Jack raced at the Manx Grand Prix.
Also included are objects ranging from fuel filler caps and motorcycle racing number plates dating back to the 1920s.
'Prolific collector'
Antiquarian John Hall of Murray's said the collection has received world-wide attention especially from America and Europe.
"Geoff loved the TT and he was a prolific collector. This has to be one of the largest and most exciting personal collections to go under the hammer.
"We are expecting it to prove very popular," he added.
The auction at the Jurby Motor Museum started at 10:30 BST on Saturday.