New £2.2m Peel lifeboat could 'halve response times'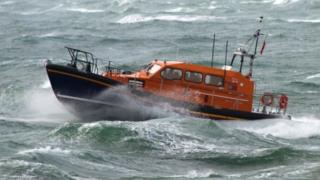 Lifeboat volunteers in Peel are to receive a new lifeboat which could halve the amount of time it takes to respond to emergencies at sea.
The RNLI has told the Peel station it could receive the £2.2m Shannon class lifeboat in 2021.
It would replace the Mersey class lifeboat Ruby Clery which rescued 16 people during 12 callouts in 2016.
Peel RNLI Lifeboat Operations Manager Allen Corlett said it would be an "exciting new chapter."
The Shannon class lifeboat is the first modern all-weather lifeboat to be propelled by waterjets instead of traditional propellers.
It is described as the "most agile and manoeuvrable all-weather lifeboat yet" and reaching top speeds of 25 knots is twice as fast as the Mersey class lifeboat.