Breast cancer charity 'let down' over Liverpool Airport quiet room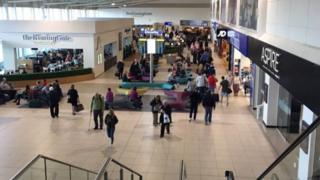 A cancer charity supporting patients travelling from the Isle of Man for treatment says it has been "let down" by Liverpool John Lennon Airport.
The Manx Breast Cancer Support Group said the airport has gone back on a pledge to provide a quiet room for patients in transit.
An airport spokesman said: "There are already a number of quiet spaces within the departure lounge."
But the cancer charity said current facilities are "far from good enough".
Spokesperson Julie Stokes said: "These people have just been through hospital treatment and some are very vulnerable.
"We are not just working on behalf of people with breast cancer we want this facility for all patients to use- some are young children and some are very elderly.
"We have been badly let down by the airport and we want the situation to change. We have no intention of backing off from this."
Liverpool Airport added: "We recognise the varying needs of all our passengers, and understand the importance of this request and those of other similar organisations.
"We do already have a number of dedicated quiet spaces within the departure lounge and have proposed these along with continuing support in communicating to the passengers as required."