Isle of Man horse trams return with limited service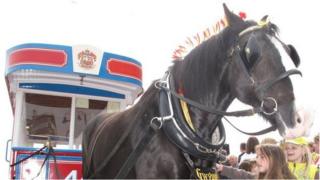 The Isle of Man's horse tram service will resume a limited service shortly, it has been announced.
The 140-year-old Bay Horse Tramway in Douglas was suspended on 9 May after a number of the horses were found to have "respiratory issues".
Isle of Man Railways said the decision to both halt and resume the service had been taken on the advice of vets.
Director of Milan Vets Ray Cox said the horses had "reacted well" to antibiotics.
He added the animals had come down with a "relatively common" infection but he was "happy with their recovery".
Isle of Man Railways said it would start with a limited schedule from Wednesday to assist in returning to full health.
It is hoped the normal timetable will resume for the summer season on 30 May.
Ian Bates, Head of Public Transport Operations, said the "welfare of the horses is always our primary concern".