IoM police to trial body cameras from TT festival week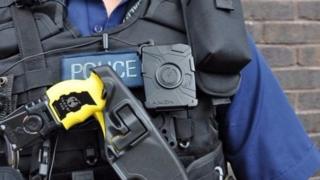 Body cameras will be worn by police officers for a six-month trial from TT week.
Twelve credit card-sized cameras will be used for the first time to record incidents as part of a £1.5m "digital transformation" of the Manx force.
If successful agencies like the fire and rescue service and the prison service could take up the technology.
Gary Roberts, Isle of Man police's chief constable, said similar trials in the UK have shown a "positive effect".
He said there had been an "increase in earlier guilty pleas from offenders who know their actions have been recorded".
The cameras are worn on uniforms and have a forward-facing screen so those being recorded can see what the camera is documenting.
The use of body cameras is part of a five-year plan that aims to cut the amount of time police officers spend doing paperwork.
It is hoped they would be able to spend more time out on patrol.