Isle of Man TT winners' first victory anniversaries marked with stamps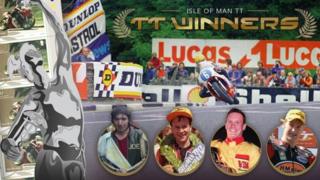 The anniversaries of the first TT win for four of the event's most successful riders have been celebrated in stamps.
The four stamps feature Joey Dunlop, Steve Hislop, Ian Simpson and Ian Hutchinson, who between them have achieved more than 50 TT victories
This year marks the 40th anniversary of Dunlop's first Mountain Course win, the 30th of Hislop's, 20th of Simpson's and 10th of Hutchinson's.
The stamps have been released by Isle of Man Post.
Dunlop, from Northern Ireland, secured his first TT win in the 1977 Jubilee Classic TT and went on to become the event's most successful competitor with 26 wins.
His son Gary said the win was the beginning of an "incredible success story" for his late father.
Scottish rider Hislop took his maiden TT win 10 years later during the 1987 Formula Two race and went on to claim 11 wins.
Fellow Scot Simpson, who was a multiple British champion, claimed his maiden TT win in the 1997 Junior Race, having made his debut eight years earlier.
Hutchinson, who will compete at this year's event, won his first race in 2007 and has won a total of 14 titles so far.
The Yorkshireman said winning a TT race was "such an incredible feeling and it is a great honour for my first victory to be featured on a stamp".