Isle of Man TT 2017: Mountain Road becomes one-way for festival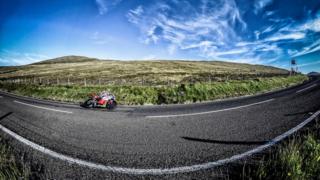 The Isle of Man's A18 Mountain Road has been converted to a one-way system for the TT festival, the Manx government has said.
A spokesman said the route between the Ramsey Hairpin and the Creg-ny-Baa was closed to allow for the change and reopened at 16:30 BST ahead of Saturday's first practice session.
The system was first introduced in 2007 as a safety measure to reduce the chance of collisions on the road.
It will remain in place until 12 June.
The first Isle of Man TT practice session will be held on the Mountain Course on Saturday with the opening Superbike race on 3 June.
A full list of road closures is available online.