Isle of Man TT: Two arrested over race fan's bike theft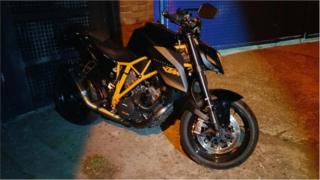 Two people have been arrested in Liverpool on suspicion of stealing a motorbike from a fan travelling to the Isle of Man for the annual TT races.
The Merseyside Roads Policing Team said a number of unattended bikes were stolen over the Bank Holiday weekend.
A spokesman urged bikers to be vigilant and "secure their unattended bikes".
More than 40,000 bikers are expected to travel to this year's festival with many travelling by ferry from ports in Liverpool and Heysham.
Bikers have been advised to "lock and tag" their machines.