Isle of Man TT: 'Significant' rise in ferry firm's opening day bookings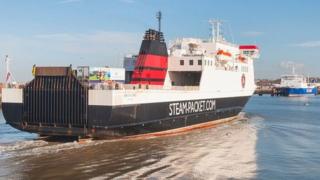 Ferry bookings for the opening day of reservations to next year's Isle of Man TT have risen "significantly", it has been revealed.
The Isle of Man Steam Packet Company processed a record 5,000 bookings which is 1,500 more than the opening day of reservations to attend this year.
Chief Executive Mark Woodward said it underlines the continued growth in the event's popularity.
The first races at this year's event will be held on Saturday.
According to the operator 14,000 passengers have already booked, an increase of 4,000 on those attending this year, and 6,511 motorcycles have reserved a place.
Around 35,500 ferry passengers travelled for the TT in 2016 and the final passenger figures for this year's event will be published next week.
More than 42,000 people are expected to attend this year's festival.