WW1: Centenary of Isle of Man soldier's death marked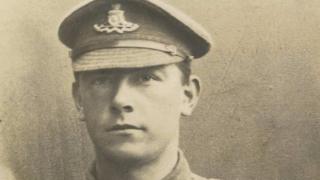 A soldier who was killed in action during World War One will be remembered on the 100th anniversary of his death.
Bombardier Thomas Arthur Caine, 21 and from Ramsey, was awarded the Military Medal for gallantry during his two years with the Royal Field Artillery.
In a letter to his parents his Captain described him as an "exceptionally brave and popular man".
A minute's silence will be held at 18:30 BST at Ramsey war memorial with many of his family expected to attend.
'Commanded respect'
Prior to enlisting in 1914, Tommy, as he was known, worked in his father's business and took on a role working with horses in the Royal Field Artillery.
In a letter to his parents, dated June 1917, Captain W Moon said he was a man who "commanded the respect of every officer and every man".
"He always showed an anxiety to go out of his way to do any extra or difficult or dangerous work, especially if in doing so he was helping any of his comrades, " he added.
Bombardier Caine was awarded the Military Medal after going out under very heavy shell fire to repair important lines.
He was killed on 1 June 1917 by a German shell whilst supporting comrades under heavy fire.
He is buried in the Reninghelst New Military Cemetery in Belgium.