Isle of Man fire service rescue man stuck in house roof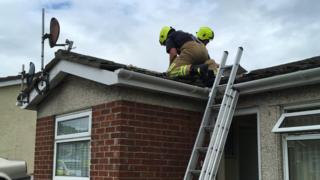 A man who was carrying out cabling work at a house has been rescued after becoming trapped in the roof.
Firefighters were called to a property in Julian Road in Douglas at about 15:30 BST on Wednesday after a man became stuck in a confined space.
He became trapped whilst inside a roof void at the house, a spokesman for the Fire and Rescue Service said.
After being cut free he received medical treatment but suffered no serious injuries.