Isle of Man TT 2017: Sidecar narrowly misses crowd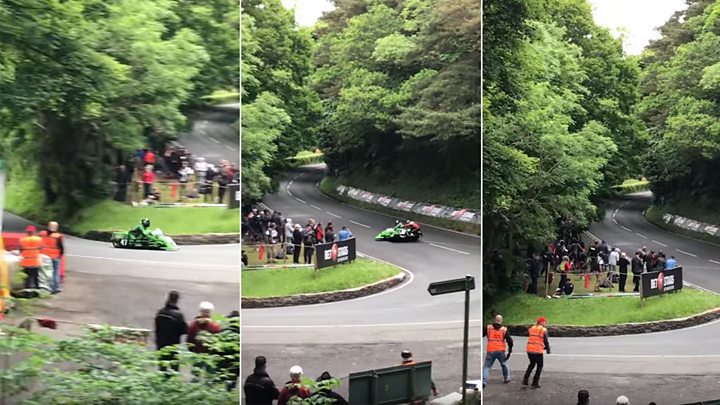 A sidecar narrowly missed a crowd of spectators after crashing at the Isle of Man TT races.
Deborah Barron's 600cc green and black Kawasaki machine left the road at Ramsey Hairpin during Monday's opening sidecar race.
TT organisers said no spectators or competitors were injured.
In a statement, ACU Events Ltd said a review has been launched and the area would be closed to spectators for the rest of the event.
A video of the crash showed the Braddan racer and her passenger Alun Thomas take the left hand hairpin wide before veering off the road.
Following the incident, Deborah Barron wrote on Facebook: "Sorry to have given you all a scare yesterday."
She also thanked people for their messages of support.
A spokesman for ACU Events Ltd said a full review of all prohibited and restricted areas around the course would be carried out after the event as is standard practice.
The crash happened during the final lap of the opening sidecar race, which was won by Tom and Ben Birchall.