Isle of Man TT race marshal makes roadside marriage proposal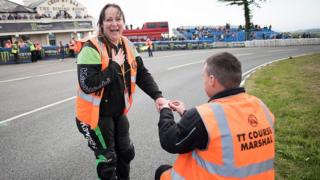 A TT marshal has gone down on one knee at the side of the track to propose to another race official.
Cy Viccari popped the question on the Isle of Man race's Mountain Course on Sunday.
Mr Viccari said he had been planning the proposal "quietly" for over a year to keep it secret from Caroline Barton.
The couple, who live in Llanfairfechan in Conwy and are originally from Poynton in Cheshire and Wirral, plan to return to the island to get married.
Ms Barton said the proposal was "a total surprise".
"You can see how shocked I am - but of course I accepted."
The couple, who first became TT marshals in 2015, met in 2014 after spending nearly a year talking on the phone for work reasons.
Mr Viccari said they found they had shared a love of motorbikes and the Isle of Man and decided to visit the island together for the famous races.
"I used to come here with my parents and have many happy memories - now Caroline and I are creating new memories," he added.