Isle of Man Parish Walk: More than 1,400 start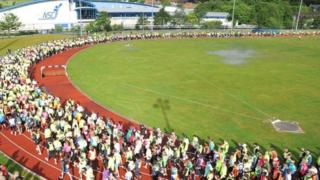 About 1,400 walkers have started the 105th Manx Telecom Parish Walk endurance event in the Isle of Man.
The hardiest entrants will be aiming to complete 85 miles (137km) within 24 hours to finish the event which visits all 17 of the island's parishes.
Only 155 of those who started the walk last year completed the full distance inside the time limit.
Last year Richard Gerrard won his third consecutive title with Karen Chiarello winning the fastest woman in third.
Gerrard's time of 14 hours, 40 minutes and eight seconds remains the fastest ever time in the event's 105-year history.
Walkers started at the National Sports Centre at 08:00 BST.
The majority of those taking part will walk to Rushen after 19 miles or Peel after 32 miles, which are more common targets.
Motorists are advised to check the event's website about road closures and no-stopping zones along the course.