Isle of Man's Castle Mona hotel sells for more than £1m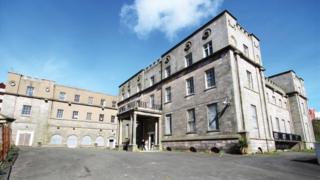 A hotel once home to a duke but left empty for a decade has sold for more than £1m to a mystery buyer.
The 98-bedroom Castle Mona hotel was built on Douglas promenade in 1801 but closed in 2006 and has since fallen into disrepair.
It was set to be auctioned but was withdrawn after an offer of "substantially more" than the £1m guide price was accepted.
Auctioneer Simon Rignall said the buyer wished to remain anonymous.
The buyer's plans for the imposing seafront building have also not been disclosed.
It was built as a home for the 4th Duke of Athol, who was a governor of the island, before being converted into a hotel in 1835 after his death.
Mr Rigall, director of Lambert Smith Hampton auction house, said it was bought by a "competent buyer" who will deal with the property "appropriately".
"It's a very big property and it doesn't matter what you pay initially, you're taking on a pretty big challenge," he added.
The hotel was previously sold by Skyland Investments to the Sefton Group in 2007 for about £4m and had been back on the market since 2011.
Sefton's chief executive officer Brett Martin said: "My predecessor's plan at the time was to create a five-star boutique-style hotel but the banking crisis in 2008 put paid to this project.
"We have been looking to sell the property for some years but the aftermath of the banking crisis made this difficult and it is only now that we've been able to secure a buyer.
"I can't go into the details of what the purchaser intends to do. It's confidential to them. But from what I understand it will be a very positive outcome for the building."
He said completion is expected in a few weeks time.