Isle of Man funeral held for 'voice of Tynwald' Ian Cannell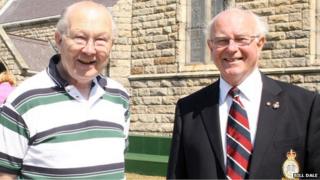 The funeral is being held for a popular Manx broadcaster who was known as the "voice of Tynwald".
Ian Cannell CBE died aged 83 on 17 June after a long-term illness.
Mr Cannell, who was the first official TT commentator for Manx Radio, also commentated on the annual Tynwald ceremony for more than half a century.
President of Tynwald Steve Rodan said his "dignified, fluent and informed commentary" had "illuminated proceedings" for 52 years.
Mr Cannell was made CBE in 2004 for his work with the Royal British Legion.
His funeral will be held on Wednesday afternoon in Peel Methodist Church.