'Significant' Viking hoard unearthed on Isle of Man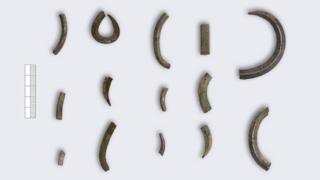 A "very significant" find of Viking silver has been unearthed on the Isle of Man by a metal detectorist.
An inquest at Douglas Court House heard the 14 pieces, found in the Garff area in 2016, dated from the 10th Century.
Archaeologists believe they may be fragments of arm-rings which were worn as a display of wealth.
Declaring them treasure trove, Coroner John Needham said they could "add to the island's knowledge of life during the Viking age".
Mr Needham said he would not disclose exactly where the pieces were found "in order to protect the integrity of the land".
'High-status artefacts'
Stuart Watts, discovered the pieces between June and December in 2016 after having sought the permission of the landowner some years ago.
Manx National Heritage's Allison Fox said it was the first such find in the area, which may have had "a lot of Viking activity".
"Arm-rings were high-status artefacts and very common at the time," she added.
"They were an obvious statement of wealth and were also used as currency before coinage was adopted."
The hoard has been housed at the Manx Museum in Douglas.