Island Games 2017: Isle of Man add 14 golds to top medal table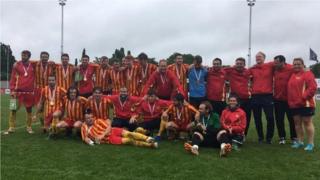 The Isle of Man has finished top of the table at the 2017 Island Games, held on the Scandinavian island of Gotland.
The Manx team won 14 gold medals on the final day to finish with a total of 101 medals, including 39 golds, after five days of competition across 14 sports.
The Isle of Man last finished top of the medal table in 2013 in Bermuda, and also won the most gold medals in 1988.
The Faroe Islands finished second with 30 golds, followed by the Channel Islands of Jersey and Guernsey.
The final day of competition saw a surge of golds for the island including the first ever title for the men's football team, who defeated Greenland 6-0.
The women's side lost 2-1 to hosts Gotland in their final.
Alex McAuley won the men's golf gold, with the Manx team also taking top honours, while Jessica Li claimed both the badminton singles title and the women's doubles with partner Kim Clague.
The were further golds in athletics, with the women's 4x100m and 4x400m relay teams also taking gold.
The majority of the island's medals came in gymnastics and swimming, with cycling and athletics also proving fruitful.
Despite the final day gold-rush the island's record of 41 golds at the 2011 Games in the Isle of Wight remained intact.
More than 2,500 competitors from more than 24 islands around the world competed, with the Isle of Man participating in all 14 sports.