King Orry to 'dazzle once more' at Manx military exhibition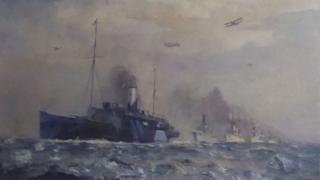 A painting of a Manx vessel escorting a defeated German flotilla in World War One is to be restored for an art show.
AJW Burgess's 1919 work, Surrender of the German Fleet, shows the King Orry in dazzle camouflage, which was used to confuse enemies targeting the ship.
It will be restored with two other works for a 2018 Manx Museum exhibition about the island's military history.
Manx National Heritage's Christopher Weeks said he was looking forward to seeing it "dazzle once more".
Burgess's painting of the Steam Packet vessel, along with a 1795 portrait of Robert Farrant MHK and Worthy Vizard's 1900 depiction of Maj James Spittal will be cleaned and restored in the UK before returning to the island for the show.
Maj Spittal was the commander of the Douglas Rifles Volunteer Corps, while Mr Farrant, who served as High Bailiff of Peel, was commanded the Peel company of the Northern Manx Volunteers.
Mr Weeks said he expected the work to take about three weeks.