Isle of Man TT 2017: Charity 'astonished' by TT fans' generosity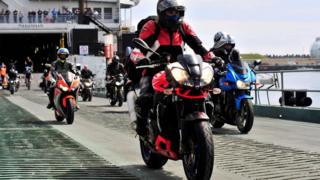 Nearly £20,000 has been raised for a charity which supports medical services at Isle of Man motorsport events.
The cash was collected from TT visitors in memory of Rob Vine, from Kent, who died during the Senior race in 1985.
Since the mid-1990s, more than £255,000 has been raised for the Rob Vine Fund.
The cash - collected on the Manannan and Ben-my-Chree ferries during the TT fortnight - helps provide training as well as medical and rescue equipment for doctors, paramedics and marshals.
Charity director David Stevens said the amount donated this year had smashed the previous record by £3,000.
This charity provides first aid and advanced life support equipment around the TT course and supplies medical and rescue equipment carried on helicopter ambulances - known as AirMeds - used during the TT, Manx Grand Prix and Southern 100 road races.