Tynwald Day 2017: The women changing the face of Manx politics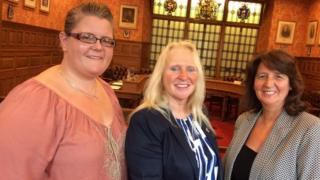 They came from round the world to mark the annual outdoor sitting of parliament.
Officials in robes and wigs, men in top hats, and women in their best dresses gathering to the sound of a military band.
From behind Tynwald Hill five hooded figures in red cloaks appeared.
Their silence spoke volumes as spectators elbowed each other and pointed... trying to work out who they were.
They were dressed as handmaids from The Handmaid's Tale (in case you haven't seen the programme or read the book - it's a dystopian story where women who can bear children become the property of the state) to protest against abortion access on the island.
Under the Isle of Man's current laws, abortions are only permitted in circumstances including rape or on mental health grounds.
And fewer than 10 terminations are carried out on island each year.
One protester, who asked to remain anonymous, says: "It's traumatising for women who face an unwanted pregnancy. If you don't have the money to go elsewhere you have no choice but to have the baby or terminate on the cheap.
"Choice should not be about cash. We shouldn't be forced into motherhood slavery."
But the Humanity and Equality in Abortion Reform (Hear) campaign say any change in the law would be "regressive".
Women's health issues are set to become key topics of discussion over the next four years.
Since last September's election there are five women who are Members of the House of Keys (MHK) - a record breaking figure, though out of 24 is that good enough?
"Things are changing. We know as women we have brought a more open and collaborative discourse to parliament. Things are just as thorough but we are honest about how we feel," Clare Bettison tells me.
She is the MHK for Douglas East and used to be a nurse.
"We have to get women's issues on the agenda. Is it right that women are seeking terminations using pills off the internet? Do we have the money to pay for abortions here?
"We don't know all the answers, but we want to make sure the issues are thoroughly discussed."
And in autumn they will be with a private members bill introduced by Dr Alex Allinson, a MHK who thinks if the island doesn't move forward in social attitudes it will get left behind.
"We know our population is in danger of dipping into decline. We need it to grow for our economy. For that to happen we need to tell the world: 'Look. We are modern. Gay, bi, transsexual you are all welcome here'," he says.
Is that true? I ask a woman at the Tynwald ceremony.
"Oh no. People don't like discussing awkward things here. If it makes people uncomfortable we hope it will go away.
"It's the island way."
Perhaps it used to be. But times are changing.
Many here will tell you they want more women in parliament, and accept it is time to look closely again at whether women should be able to choose to terminate their pregnancies.
But they are in no hurry, as Ann Corlett the MHK for Douglas Central tells me.
"We don't mind change. But it must be done properly. Our tradition is what makes us special, so don't call me a moderniser."
To find out more watch Sunday Politics North West on BBC One at 11:00 BST.