Plans for £8.24m refurbishment of Ballasalla housing estate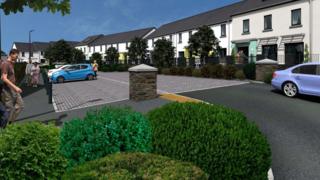 Tynwald will be asked to approve plans to spend more than £8m on rebuilding a housing estate.
Planning approval has been granted for the scheme on the former Royal Naval Air Service camp in Ballasalla.
The proposals will see 51 houses built and 42 demolished in an area known as The Horseshoe on the Clagh Vane estate.
A government spokesman said it was not economically viable to refurbish the 42 properties. Work will start in September if Tynwald backs the plans.
"Structural issues, outdated internal layouts and poor thermal performance meant it was not practical or cost effective to refurbish the original dwellings, which dated from 1949," said the spokesman.
"The proposed development includes eight energy efficient homes, two bespoke units for disabled tenants and scope for up to seven first-time buyer houses, subject to demand."
Tynwald will meet on 18 July to discuss the proposals.