Douglas regeneration: Politicians asked to back third £20m promenade scheme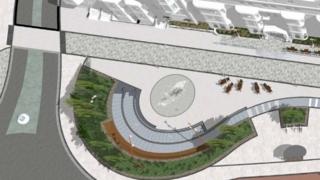 Isle of Man politicians will be asked later this month to back the latest multi-million pound proposal for the redevelopment of Douglas promenade.
The scheme is the third to be drawn up and would cost more than £20m.
According to the Isle of Man government about £2m has already been spent on professional fees, design work and investigations.
The infrastructure department said the plans can "rejuvenate the gateway to the Isle of Man".
Ideas put forward include road and drainage improvements and the creation of a cultural centre on the promenade.
'Crumbling infrastructure'
If politicians back the idea, work could begin in September 2018.
The department said the £120,000 spent on temporary resurfacing of the road was only a short-term fix and that work to improve the 80-year-old's promenade's "crumbling infrastructure" was long overdue.
The scheme reflects the design principles agreed by Tynwald in January 2017 and would see some changes being made to the horse tram tracks.
A new cultural area would also be created around the Villa Marina and Gaiety Theatre.
If plans are approved for the three-year project a planning application will be submitted.
A traffic management plan would be put in place to minimise disruption during the works.