Isle of Man police 'stretched' by investigating financial crime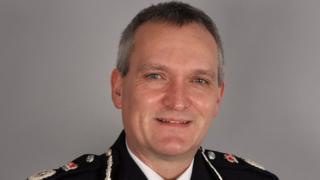 The Isle of Man police force runs out of officers "frequently", the chief constable said in his annual report.
While they are able to deal with ordinary events, Gary Roberts said his force would struggle with "anything out of the ordinary".
In 2014 Chief Constable Roberts had to make 11% job cuts as part of efforts to save £1m.
He said: "The police service has been cut to the bone - quite simply, we run out of people on a frequent basis."
"Fifteen years ago we successfully dealt with five homicides in as many months - we could not do that now without assistance from elsewhere."
Tough choices are having to me made, he explained, with "sexual offences and financial crime" taking priority, along with "trying to maintain sufficient officers in neighbourhood policing teams to allow for effective community policing".
The chief constable's report also highlighted major difficulties in recruiting staff, with applications falling by about 60%.
'Considerable challenges'
Despite the challenges facing his "stretched" force, Mr Roberts said the Isle of Man "remains the safest place to live in the British Isles".
While recorded crime has increased by 11% year-on year, Mr Roberts said it remains low in historical context.
"The constabulary has successfully protected vulnerable people, it has increased its drug seizures, it has successfully prosecuted dangerous sex offenders and it continues to be ambitious in terms of its development," he added.
There has been a dramatic rise in financial crime, with the chief constable describing its scale as "without precedent".
"That is the price you pay when you live on a leading financial off-shore centre," he added.
"We are dealing with some of the biggest money laundering issues in Britain - dealing with those challenges is considerable."
About 20% of the island's 70 detectives are probing alleged financial offences.
"I could easily allocate all 70 to financial crime investigations and still not be able to meet all of my obligations," said Mr Roberts, who warned that "the level of demand we are facing is the new norm".
Drug offences are also on the rise - from 257 in 2015-16 to 372 in 2016-17.
"To cut through the jargon, offences of possessing cannabis were a daily event," said Mr Roberts, who has called for a "scientific, rational debate to see if we are dealing with this problem in the right way".
"The increase in the recording of possession of Class B drugs in the last year by itself accounts for around half of the rise in all recorded crime," Mr Roberts added.
"Policing the Isle of Man should be about community policing but combating financial crime and stopping Class A drugs coming to the island are proving increasingly challenging.
"We have to balance that with keeping people safe at a local level."
The Chief Constable's annual report will be presented to the parliament of Tynwald later this month.