Mystery 'help' sign below remote cliffs sparks Isle of Man search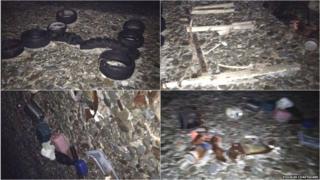 A "help" sign written on a remote Isle of Man beach using tyres and driftwood has sparked a search by coastguards.
Police were alerted by a passer-by who spotted the message at the foot of 250ft (76m) cliffs between Keristal and Little Ness in Braddan.
The coastguard was asked to investigate and a cliff technician was lowered from Marine Drive.
"A thorough search of the beach and surrounding area was carried out but nobody was located," said a spokesman.
Kevin Scott of the Douglas Coastguard said the cove is only accessible by sea "so it is a mystery as to why or how it is there."
In a statement, he said: "The word HELP was written in six ft high (1.8m) letters made out of tyres, plastic and wood and the walker did the right thing in telling the police."