Commonwealth Games 2018: Queen's baton to visit Isle of Man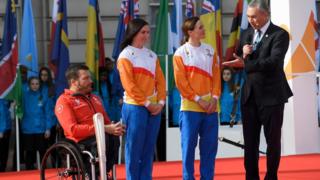 The Queen's baton will visit the Isle of Man in September ahead of next year's Commonwealth Games.
The tour of Commonwealth nations and territories will span 388 days, 71 countries and 200,000 miles before reaching the host nation of Australia.
The baton will be carried on the Isle of Man by Commonwealth athletes and will visit the top of Snaefell, Tynwald Hill and a kipper factory.
The 2018 Games begin on 4 April on Australia's Gold Coast.
Events will be held around the Island giving residents the opportunity to see the baton and celebrate Team Isle of Man, said the Manx government.
The official route for the 2, 3 September is available online and will see the baton travel on the island's horse tram.
It will be officially welcomed by the Isle of Man Commonwealth Games Association's President Basil Bielich, the Chief Minister and CGA officials.
The Isle of Man has earned an impressive medal tally over the years with three gold, two silver and six bronze at the competition.
At the 2014 Games in Glasgow, cyclist Peter Kennaugh won a silver medal. in the men's 40km points race.
The island's last Commonwealth gold was won by Mark Cavendish at the 2006 Games in Melbourne.
The Queen has started the countdown to the 2018 Commonwealth Games, launching the baton relay at Buckingham Palace in March.