Manx grant to help rebuild two Nepali schools hit by 2015 quake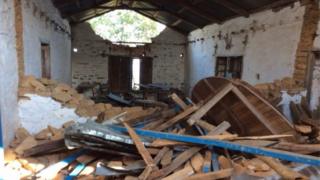 Two schools destroyed in Nepal's 2015 earthquake will be rebuilt using a grant awarded by the Manx government.
More than £82,000 has been donated to the The Pahar Trust, a long-standing supporter of education projects in Nepal, to help carry out the work.
The charity said it aims to enable some of the world's poorest children to receive a high standard of education.
Nine thousand people died as a result of the huge earthquake in Nepal two years ago.
Project manager Harriet Hancox said: "Nine thousand people died in Nepal as a result of a huge earthquake in 2015."
"Over two years later, children are still being taught in temporary shelters of bamboo and tarpaulin."
Chief Minister Howard Quayle said: "The Isle of Man was quick to provide £150,000 of emergency support to the response efforts and I'm delighted that we are able to continue our support."
The cost of the project is estimated at £111,644, with the charity's planning to raise the rest through fundraising on the island.
The Pahar Trust has already built more than 80 schools in Nepal.