Tynwald to debate future of Isle of Man ferry services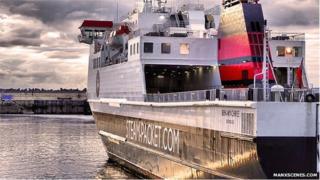 The future of the Isle of Man's ferry services will be debated in the Manx parliament later.
Tynwald will consider whether to continue the government's deal with the Isle of Man Steam Packet Company.
Infrastructure Minister Ray Harmer said the company's offer should be rejected to consider all options.
The Isle of Man Steam Packet Company said it was investing £170m in services and accused the government of "misrepresenting" its proposal.
In return for exclusive use of the King Edward Pier linkspan in Douglas - the bridge which enables vehicles to board and disembark ferries - the operator has to provide a guaranteed minimum level of service.
The ferry firm has said it would invest in two "state-of-the-art" ships, increase capacity and continue to link fare rises to inflation on the Isle of Man.
'Best and final offer'
It follows an independent report by economic consultants Oxera into the future of the island's sea services which is to be debated later.
The report was challenged by Isle of Man Steam Packet Company Chairman Robert Quayle who said it was "incorrect to state that..." the company might raise fares and cut services".
The implications of replacing existing vessels was "never raised" as an issue during negotiations with the government, he said, and the firm had revised its original offer.
He added that if Tynwald declines to approve their proposals, the firm "regrets it will have no alternative but to withdraw" any offer terms based on the present user agreement.
Mr Harmer said that Tynwald will be asked to note the Steam Packet Company's "best and final offer" and instruct the Department of Infrastructure to continue negotiations "to consider all other options".
"Although some elements are worthy of consideration, on balance it is recommended that Tynwald does not accept the offer, but instructs the department to continue negotiating and to consider all routes available for a solution that is in the best interests of the island as a whole.
"Safe, reliable, high quality and fairly priced ferry services are absolutely fundamental to the economic and social wellbeing of the Isle of Man."
The present user agreement came into force in 1995 and currently runs until 2020.
A company spokesman said: "It is unlikely that any other possible operator could replicate such an offer, at least without significant government support.
"We believe our offer is in the best long-term interests of the Isle of Man."