Bushy's beer tent: Brewery 'devastated' to lose pitch to rival The Hooded Ram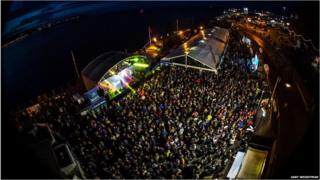 The Isle of Man's newest brewery has been chosen to take over one of the most popular sites for thirsty drinkers during the annual TT festival.
The Hooded Ram has been offered use of the Bottleneck car park until 2022, Douglas Borough Council has announced.
Bushy's Brewery has run a beer tent there for the last 20 years - a company spokesman said he was "extremely sad".
Douglas Borough Council said The Hooded Ram plans to create a "festival feel and attract a wider audience".
Bushy's Brewery said it was already working on alternative plans for next year's festival.
"We are naturally devastated that such a piece of traditional entertainment will now no longer be in its rightful home.
"However, this is not the end of Bushy's Beer Tent."