'Final' ferry offer by Isle of Man Steam Packet Company rejected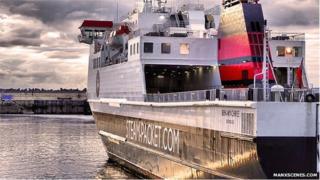 The Manx parliament has rejected a ferry company's "best and final offer" to continue services beyond 2026.
On Tuesday, Tynwald members turned down the Steam Packet Company's proposal to "consider all other options" including nationalising the service.
Negotiations with the company will continue but the government said it will also look at competitive tendering and full or partial state ownership.
The ferry operator declined to comment, said a spokesman.
The Steam Packet Company had proposed to invest £170m in services - including spending £65m on two "state-of-the-art" ship - had its contract with the government been extended.
It is still able to submit a revised offer but chairman Robert Quayle had indicated earlier that if unsuccessful, the firm would "have no alternative but to withdraw" any offer terms based on the present user agreement,
The agreement means that, in return for exclusive use of the King Edward Pier linkspan in Douglas - the bridge which enables vehicles to board and disembark ferries - the ferry operator has to provide a guaranteed minimum level of service.
In a letter the Manx government, Mr Quayle challenged the report to Tynwald which he said "misrepresented" its proposal and said it was "incorrect to state that..." the company might raise fares and cut services".
'Lengthy and expensive'
Passenger group Isle of Man Travel Watch said the Manx government was right to hold out for better terms and backed the idea of further negotiations.
But chairman Brendan O'Friel warned against a competitive tendering process which he said could be "a lengthy, expensive and very uncertain process".
"The Isle of Man's ferry operation is extremely specialised and one of the questions to ask is, could any other operators actually deliver that service?
"Given the size of our port, many ferries are just too big to get in and it's unlikely that other operators would consider the Isle of Man operation as a money spinner- it's a highly seasonal seasonal service which has to deal with a hugely diverse set of weather conditions.
"What we would like to see is a commitment to providing a reliable, punctual and affordable service," he concluded.