Douglas promenade makeover plan backed by Tynwald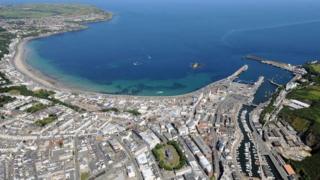 A multi-million pound proposal for the redevelopment of Douglas promenade has been backed by Isle of Man politicians.
The £20m scheme is the third to be drawn up after two previous schemes failed to materialise.
Politicians have unanimously backed the plans, which will see the creation of a new cultural centre, but nearly 130 fewer parking spaces.
The government said about £2m had already been spent on professional fees, design work and investigations.
A spokesman said the reduction in parking would be due to improved access for buses and taxis, and efforts would be made to free up space in other areas.
The Department of Infrastructure (DOI) said £120,000 spent on temporary resurfacing of the road was only a short-term fix and work to improve the 80-year-old promenade's "crumbling infrastructure" was long overdue.
The scheme reflects the design principles agreed by Tynwald in January and will see changes to the 140-year-old horse tram tracks.
The latest scheme will have twin horse tram tracks in the centre of the road from Strathallan to Castle Mona Avenue, switching to a single track on the seaward side of the road terminating at Peveril Square, near the Sea Terminal.
The DOI said it would work with Douglas Borough Council and utility providers to install new water and gas mains and improved lighting.
Infrastructure Minister Ray Harmer said: "Now is the time to grasp the nettle.
"There is public and political appetite for decisive action and I believe the department is offering a solution that will benefit the island for generations to come."
A planning application for the three-year project will now be submitted and work could begin in September 2018.
An previous scheme to revamp the promenade was rejected following a planning inquiry which raised concerns about loss of public space.
A second bid hit the buffers amid concerns over the future operation of the horse tram service.