Sinking fishing boat rescued in Douglas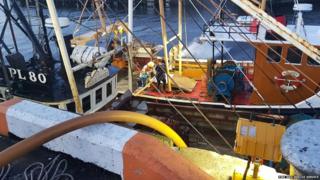 A fishing trawler that started sinking has been rescued.
The stricken boat, which was tied up alongside another trawler, began taking in water on Red Pier in Douglas on the Isle of Man at about 04:00 BST.
The captain called the fire service which pumped out the water before carrying out temporary repairs.
Firefighters from Douglas worked with the boat's crew at the scene for about two hours. No-one was injured in the incident.