Jamie Hodson: Isle of Man and Wigan memorials planned for racer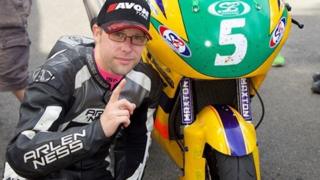 A memorial service will be held during this year's Manx Grand Prix (MGP) for a former winner who died after a crash while racing in Northern Ireland.
Jamie Hodson, from Wigan, was fatally injured in the Dundrod 150 on 10 August after an incident at the Joey's Windmill section.
The 35-year-old Englishman won the Supertwins MGP race in 2016 which is held on the Isle of Man TT course.
A service will be held at St Ninian's Church in Douglas on 23 August.
A church spokesman said it is being held with the "kind permission of the Hodson family" and conducted by the Rev John Coldwell.
He added that a "celebration of Jamie's life" will also be held in his home town of Wigan and all are welcome at both.
Jamie's brother Rob Hodson was also involved in the crash but not seriously hurt.
The National race was immediately red-flagged and the Hodson brothers were taken to hospital after being treated at the scene.
Jamie Hodson's death was later announced shortly after 22:00 BST.
The opening practice session for the 2017 Festival of Motorcycling, which includes the Manx Grand Prix and Classic TT, will be held on Saturday.