Isle of Man food bank demand increases over school holidays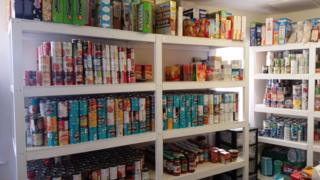 The demand for food banks has increased as children risk going hungry over the summer holidays.
The Isle of Man Foodbank said demand had risen by more than 50% in July and August, with 80 parcels handed out this year compared to under 40 in 2016.
Co-ordinator Neal Mellon said "holidays can be very difficult time" as children are not receiving free school meals but it is "no different" in the UK.
The Trussell Trust, which runs UK food banks, said some are "close to crisis".
'Not enough money'
The Isle of Man Foodbank provides emergency food and drink parcels which can include UHT or powered milk, fruit juice, pasta, rice and tinned foods such as meat and fish.
It is the only registered charity dedicated to distributing food on the island but other organisations such as churches operate a service.
Mr Mellon said: "This rise in 'holiday hunger' has been seen across the UK and we are no different.
"The holidays can be very difficult time - when children are not getting free school lunches the pressure is then transferred to the parents, some of whom just don't have enough money."
Peel Cathedral, in the west of the island, has set up an informal arrangement where people can take food from a box that is filled up when stocks get low.
Administrator Val Garret said: "We don't have huge numbers using it but it's a valuable service and we have noticed it get busier over the past few weeks."
A spokesperson from the Trussell Trust, which provides nutritionally-balanced food for people in crisis, said: "Families who rely on free school meals during term time can find themselves facing hunger in the school holidays.
"No one knows the full scale of hunger during the school holidays, many families are closer to crisis than we think."
"It's shocking to hear that even outside of trust's network of 428 food banks, projects to alleviate poverty are seeing record demand."
The Isle of Man Foodbank was set up in November 2013 and in the first 12 months it distributed 125 parcels, a number which has doubled year-on-year.