Dr John Taylor: Clock inventor honoured on Isle of Man stamps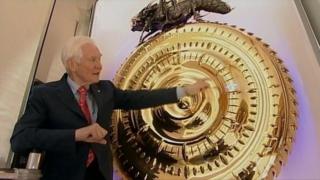 An inventor who designed and made a series of "time-eating clocks" has been honoured on a set of Isle of Man stamps.
Dr John Taylor also invented the the bimetal thermostat, a crucial safety feature on electric kettles which turns them off when the water boils.
The Isle of Man Post Office said the stamps celebrate the life and career of one of Britain's greatest innovators.
The six-stamp series will be issued on Wednesday 13 September.
Dr Taylor's most notable creation is the bimetal thermostat control inside electric kettles - more than two billion have been sold worldwide.
"I have lived my life deliberating, inventing, creating, producing and perfecting," said the 80-year-old Isle of Man resident.
"It would be marvellous if others seeing the stamps were to follow my motto, "Cogitate incogitata", Think the unthinkable."
As well as being one of Britain's most prolific inventors, with more than 400 patents registered to his name, Dr Taylor is also a respected horologist with an extensive clock collection.
His chronophage clocks, which appear to "eat time" are valued at several million pounds each.
They have no hands or numbers but, instead, feature giant creatures including a grasshopper and a dragon.
One is installed outside Corpus Christi Library in Cambridge.