Duchenne Muscular Dystrophy boy's 'huge strides' after Manx NHS U-turn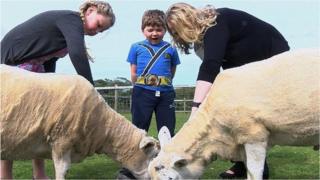 An eight-year-old boy with a rare muscle-wasting disease is "making huge strides" after the Manx NHS reversed its decision not to fund his treatment.
The Department of Health previously said it "could not justify" paying for Translarna to help ease Finley Hesketh's Duchenne muscular dystrophy.
Last year the Manx government changed its mind about whether to provide the drugs, which cost £200,000 a year.
Kirstie Hesketh said that, 12 months later, Finley was making real progress.
"His concentration has improved to the extent that he has gone up a couple of reading levels at school, has started violin lessons and is able to take part in mainstream swimming lessons," she said.
"Finley is nine next February and without this drug we would now be seeing a rapid decline in his health - instead he is able to manage a full day at school without his wheelchair."
'Beautiful little boy'
Translarna was approved for use in the European Union in 2014 and NHS England made it available from April 2015.
But the Manx Department of Health said it could not afford to pay for Finley's medication.
The change of heart was made last year but only came to light during a Public Accounts Committee hearing on Monday, in which Health Minister Kate Beecroft was questioned about a departmental overspend of £11m.
Mrs Beecroft said it would have been "miserly" not to have provided Finley with the treatment.
Mrs Hesketh said she had not expected the government's U-turn "because there was so much focus on the cost of the drug, rather than my beautiful little boy and what it would do for his life".
"This is a massive boost for the whole family," she added.
What is Muscular Dystrophy (MD)?
A group of inherited genetic conditions that gradually cause the muscles to weaken, leading to an increasing level of disability
Progressive, which means it gets worse over time. It often begins by affecting a particular group of muscles, before affecting the muscles more widely
Some forms of MD eventually affect the heart or the muscles used for breathing, at which point the condition becomes life-threatening
There's no cure but treatment can help to manage many of the symptoms
MD is caused by mutations in the genes responsible for the structure and functioning of muscles
Mutations are often inherited - if you have a family history of MD, your GP may refer you for genetic testing and counselling to evaluate your risk of developing the condition or having a child with MD, and to discuss the options available to you
One of the most common and severe forms of muscular dystrophy is Duchenne muscular dystrophy
It usually affects boys in early childhood
Men with the condition will usually only live into their 20s or 30s
source: NHS Choices