Isle of Man Christmas stamps 'reflect Manx history'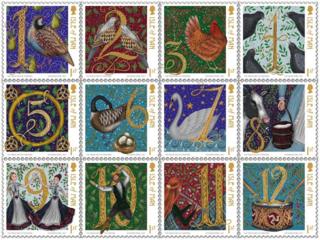 The designs for the Isle of Man's 2017 Christmas stamps will reflect "the Manx history and traditions", the artist behind them has said.
Designed by Catherine Rowe, the Twelve Days of Christmas issue features 12 stamps based on the seasonal song.
She said she wanted to bring a "strong earthy, Celtic theme" into the project.
An Isle of Man Post Office spokeswoman said they all had "a small nod towards the island's heritage - be it the three armoured legs or Manx tartan".
The stamps will be released on 19 October.