Jochem van den Hoek: Dutch TT racer died from 'catastrophic liver injuries'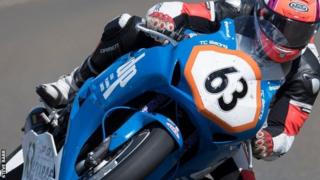 An experienced motorbike racer died from "catastrophic liver injuries" suffered in a crash at this year's Isle of Man TT festival, an inquest heard.
Jochem van den Hoek, 28, lost control of his 1000cc Honda Fireblade and crashed into roadside fencing at the 11th Milestone on the first lap of the Superstock race on 7 June.
The professional bicycle-maker, from Werkendam in the Netherlands, was part of the TC Racing Team.
A misadventure verdict was returned.
Mr van den Hoek was carried on a stretcher to a field where the Air Med ambulance could land but a few moments later Mr van den Hoek lost consciousness and suffered a cardiac arrest.
Coroner John Needham said: "Help came quickly but no amount of first aid or medical treatment could have saved him.
"He was an experienced racer but even experienced racers can make mistakes - the consequences of this on the TT course can be unforgiving."
It was the second time Mr van den Hoek had competed in the Isle of Man TT races.
"Mr van den Hoek travelled a long way to follow his racing passion - he knew the risks involved in racing at the TT but he ultimately thought it a risk worth taking," Mr Needham added.