Tynwald backs plan to wipe £95m from Manx Utilities' debt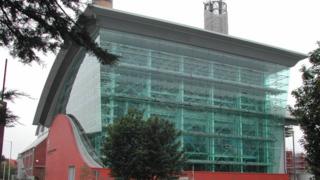 Tynwald has backed a plan to remove £95m from Manx Utilities' £538m debt following a proposal by the Treasury.
The move will see water and sewerage rates and the electricity standing charge frozen, and a 2% cap on electricity increases for 2018-2019.
A National Economic Research Associates (NERA) report recommended the historic debt be restructured to "reduce the potential burden on customers".
Tynwald members have voted unanimously in support of the move.
Manx Utilities chairman Dr Alex Allinson said it would give the company "the flexibility to meet their financial targets whilst putting the customer first."
Manx Utilities was formed when the Manx Electricity Authority merged with the Water and Sewerage Authority in 2014.
'Improve business confidence'
Its debt had risen over time in order to fund major infrastructure projects including the construction of a power station.
The £538m debt is made up of £260m in bonds and £278m in Treasury loans, of which £95m will be removed.
Treasury minister Alf Cannan said the measure would "shield consumers and improve business confidence".
However, he conceded the decision would "reduce funds for capital schemes".
The NERA report said the debt should be reduced in exchange for lower price increases over the next 5-10 years, although the changes announced so far only cover one year.
Dr Allinson said Manx Utilities would return to Tynwald next year with a long term pricing structure.
The report also said its water charges are higher than comparative utility suppliers, electricity charges are marginally higher while sewerage charges are lower.