Portuguese man-of-war found on Manx beach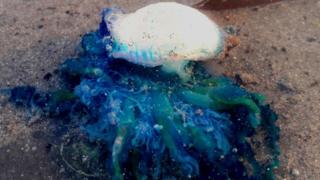 A potentially fatal jellyfish-like creature has made a "very unusual" appearance on a Manx beach.
The Portuguese man-of-war was found near Langness in Castletown on Wednesday.
A spokeswoman for the Manx Wildlife Trust said it was rare to see one on the island and warned that they should not be touched or picked up.
She added that the creatures are "highly venomous" and can give a "nasty sting".
The UK Coastguard issued a warning about the creatures on Monday, following an increase in the number appearing along the south coast of England and on Welsh beaches.
John Collister, who found the marine animal, said he believed the effects of ex-Hurricane Ophelia had brought it to the island.
He said they "do not often get washed onto Manx beaches", adding: "It is probable that more might be found ashore after the southerly storm."