New Queen's Chaplain 'surprised' by appointment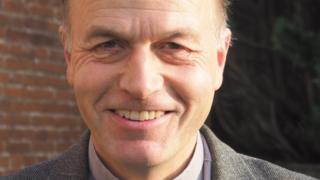 A rector says he was "amazed" and "surprised" to find out he had been appointed as a Chaplain to the Queen.
The Rev Canon Andrew Studdert-Kennedy, team rector in Marlborough, Wiltshire, has become an Honorary Chaplain to the Queen (QHC).
A spokesman for the Diocese of Salisbury, said it was "one of the highest honours possible for clergy".
The Rev Canon Studdert-Kennedy said he was "amazed and delighted" when a letter came from Buckingham Palace.
He said: "Essentially it feels very surprising, if I'm honest.
"But it is great to share the honour with the parishioners of Marlborough, where I have been privileged to serve for 15 years."
'Largely honorary'
Along with wearing a scarlet cassock in recognition of his status the rector will also be allowed to preach to the Queen.
"You're expected to preach once a year at the Chapel Royal in St James' and then there's attendance at a garden party," he said.
"But it's largely an honorary role and the duties are pretty light."
The Bishop of Salisbury, the Rt Rev Nicholas Holtam, said he was "delighted" by the appointment.
"This is good news for Andrew, for Marlborough where he continues to serve, and for the Diocese of Salisbury," he said.
"He is a distinguished parish priest and rural dean whose abilities have rightly been recognised."
The honour can be given to members of any faith who have had a long and distinguished service.