Safety checks after van swept away in 'dangerous' flood water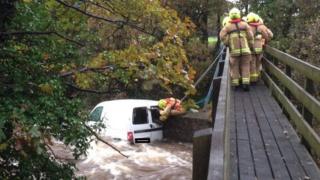 Safety checks are to be carried out after a van crossing a river ford was swept away by fast-moving flood water.
The driver was rescued by fire crews after his vehicle was swept in to deep water at the Garey Ford in Lezayre at around 17:00 BST on Saturday.
A Fire and Rescue service spokesman said the water was "deep, very fast-flowing and dangerous".
The Department of Infrastructure said they will assess the water level and speed later.
Fire crews from Ramsey and Douglas secured the van after it came to rest near a bridge before cutting the driver free. He was taken to hospital but was uninjured.
Police said drivers should take "extra care" when weather warnings are in place.