Isle of Man's poor facilities make wheelchair users 'feel second class'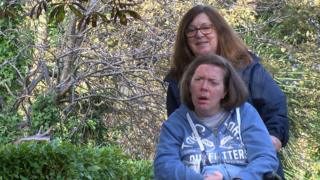 The lack of facilities on the Isle of Man can make disabled people feel "second class", the mother of a wheelchair user has said.
Jessica Morgan has used a wheelchair since being struck by a car in 1999.
Her mother Florence said her daughter loved going out, but the choices were "very limited" as "not enough" businesses cater for her needs.
Policy and Reform Minister Chris Thomas said "things will improve" now the island had introduced the Equality Act.
Mrs Morgan, from Andreas, said there were "only a few places" she could take the 36-year-old, whose injuries also left her unable to speak.
"We have to plan our route very carefully, so we have access to decent toilets and restaurants with tables high enough to accommodate a wheelchair," she said.
The Equality Act 2017, modelled on the 2010 UK law, was introduced in July and requires organisations to make reasonable adjustments for disabled people.
Mr Thomas said the law had been "a long time coming".
"I can now reassure everyone that improved accessibility will be phased in over the next few years," he said.
"It is not acceptable that anyone should feel like a second class citizen."
'Change people's mindset'
He said all public areas would be audited, including schools, roads, public toilets and local businesses.
However, Mrs Morgan said the island had "a long way to go to play catch-up".
"Some places are very welcoming, but sometimes I feel as though people get annoyed just because Jess is there," she said.
"There is still a lack of awareness about what disabled people need.
"Toilet facilities classed as 'disabled friendly' can be unhygienic, too small or expected to double-up as baby-changing facilities.
"If you wouldn't use those toilets, why would you expect a disabled person to use them?"
Carers charity Crossroads Care has been working with businesses to make changes.
Chief executive Jackie Betteridge said much of the work has been about "trying to change people's mindset".
"It's about encouraging people to change their hearts and minds and improve access for all," she added.
Mrs Morgan said she hoped that will lead to "more consistency" in the future.