New Summerland home plan for tram horses revised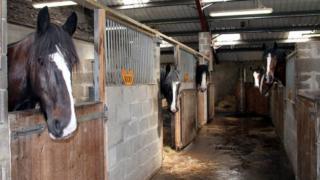 Revised plans for a new home for horses used to pull the Isle of Man's trams have been submitted by the government.
A smaller temporary facility, including stables and tram sheds, for 18 horses and 11 staff has been proposed on the vacant Summerland site in Douglas.
Current stables used since 1877 are in need of major repairs.
Initial plans in 2016 were approved but the government is seeking permission for a smaller facility, which will be considered at a later date.
Not all of the horses, which include pure-bred Shires and Clydesdale, live in the stables at the same time as they are rotated and spend time in fields around the island.
The Department of Infrastructure took over the operation of the Douglas Bay Horse Tramway from Douglas Borough Council in April 2016.
An Infrastructure spokesman said the stables are required to enable the tramway to operate in the short term after they were unable to continue the lease on the current stables.
The new facility would also include a hay store, staff and welfare facilities and parking for a period of five years.
Infrastructure minister Ray Harmer MHK said it would provide a "functional facility and an operational base to ensure the tramway service continues."
The Douglas Bay Horse Tramway has been ferrying tourists along the town's promenade since 1876.
Friends of Douglas Bay Horse Tramway wish to see the it continue as an efficiently run visitor attraction due to their "historical value."
The Summerland site, a former tourist attraction, has been vacant since a leisure centre on the premises was demolished in 2005.
It was the second leisure centre to be built on the site after fire swept through the original building on 2 August 1973 - killing 50 people.